Your Vehicle for Life
You're more than a bike rider, and Turbo Vado is more than a bike. Yes, it's fast (4x you), but we think you'll appreciate its versatility just as much. It's powerful yet smooth. Fun but functional. A bike you can commute on, crush a workout with, carry lots of stuff on—then lock it up and walk away.
Seriously smooth
Smooth Ride, Confident Feel
Supernatural power
As Much as 4x You
Ride-anywhere range
Up to 90 mi/120 km of range
Smooth Sailing
An 80mm front suspension fork, higher volume tires, and plush suspension seatpost smooths harsh bumps and stay comfortable in the saddle. 
Silently Powerful
Turbo Full Power Motor provides smooth, quiet, and seamless amplification, while MasterMind motor control gets the most out of your e-assist power.
Confident Control
Redesigned geometry puts you in a more confident riding position. Powerful hydraulic disc brakes reign in your speed.
Make Bike Thieves Miserable
What good is an e-bike if you can't take it anywhere? Turbo Vado is made to get you to your destination, then lock up when you get there. The bike has a few tricks up its sleeve to fend off wannabe bike thieves.
Turbo System Lock
Use the Mission Control app to disable the motor, rendering the Turbo useless for any would-be thieves. Nobody can turn the motor back on without your personalized pin.
Removable and Lockable Battery
It's sleekly integrated, but the Vado's battery is also fully removable. You can remove the battery entirely or lock the battery on the bike.
Brains AND Brawn: The Full Package
Garmin Radar puts eyes in the back of your head, detecting cars up to 140 meters/460 feet away and showing their location on your integrated display.
Versatility to Get the Job Done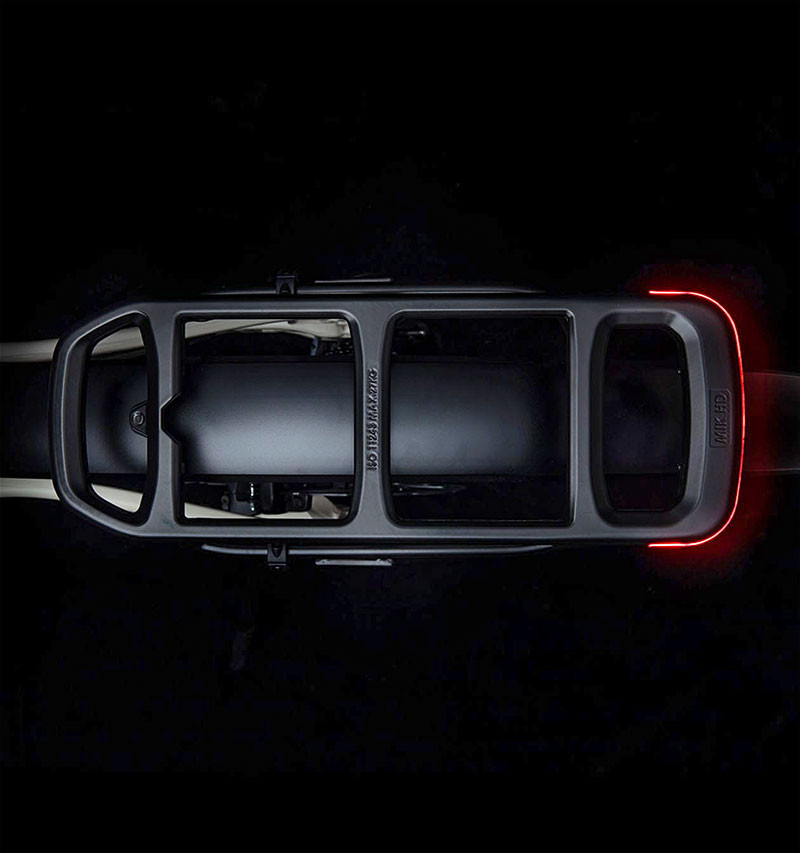 The standard rear rack with MIK HD compatibility holds up to 27 kilograms/60 pounds of stuff—that's, like, 100 baguettes.
Fully integrated lights mean there's no forgetting yours (or having them go dead halfway home).
Integrated DRYTECH fenders help keep the rain and road grime off your feet and backside. Oversized Pathfinder 650b x 2.3" tires can easily stand up to any road.
Bring the kids along—Vado is compatible with rear thru-axle trailers and/or detachable rear kiddie seats. E-bike or "wheeee" bike?
Optional Autoshift

Coming soon
Quit thinking about shifting and focus on the ride. The Como 5.0 Internal Gear Hub comes with enviolo AUTOMATiQ stepless shifting technology, letting you set the pedal pace, and the bike will do the rest. The system uses an Internal Gear Hub (IGH) and a Gates Belt Drive instead of a chain, so no more fussing with derailleurs or chains.
Internal Gear Hub

Coming soon
The enviolo internal gear hub shifting systems removes the need for a derailleur and keeps the shifting inside the hub away from the elements.
Derailleur
The simple SRAM 11-speed derailleur system uses a single ring in front and super-wide-range gears in the back to deliver all of the gears you need to conquer any hill. The tried-and-true derailleur system offers the most efficient drivetrain to squeeze the most power from your battery.
Seriously Smooth, Seriously Efficient
Because you'll just plain go faster on a Vado, we designed the bike to keep you safe and confident, too.
Mode
The new Mode helmet blends elegant lines with rider-focused design to deliver simple looks with sophisticated features. Hidden, integrated vents create ample airflow, and its integrated fit adjustment systems and personalized sizing mean you can dial in a fit that's, well, dialed.
Tailwind
We designed the first set of aerodynamic panniers in 1983, seeking the most efficient way to haul gear. Today, the Tailwind aerodynamic panniers blend form with function, reducing drag by up to 6% when tested against competitors.